Vanilla Ice, better known as the one hit wonder rapper in the 80s and for a failed attempt at Hollywood stardom, is also a name that makes my tummy gurgle.
I'm a huge ice cream fan. The problem I have with eating too much ice cream is not the caloric intake, but the exorbitant costs for a scoop of gelato. Thankfully, I find refuge in Amici de Don Bosco which does not only have, as Bogchief reviewed, THE dirt cheapest authentic gourmet Italian pizza, but serves THE cheapest gelato as well. A hefty scoop costs only, brace yourselves - 35 pesos while a scoop of gelato at
Pazzo's
is a whopping 90 bucks! That's almost triple the price when you get your dessert fix at Powerplant or Glorietta. And in Don Bosco, you don't have to be beg, make pa-kyut or make pa-awa effect with the scooping lady
"Miss, padagdag naman, ang konti eh, sige na pleeease"
'coz like I said earlier, the scoops are huge.
There's a wide variety of flavors as well- ranging from the fruity selection- mango, blueberry, strawberry (this is really yummy and creamy and you could really taste the fresh strawberries); to the nutty- almond, pistachio, vanilla with nuts, chocolate/ choco marble with assorted nuts, hazelnut (a personal favorite that tastes like frozen creamy Nutella/Toblerone.) If you're lucky, you'll still get the rum flavored ice cream which I hear is a bestseller. (When you've gotten there early and have tried it let me know how that tastes). Or you might have a better chance of trying this at Walter Mart on Pasay Road corner Pasong Tamo (right across the street from Don Bosco) where each cone costs only 10 pesos. Imagine, that's just like dirty ice cream except it's supposedly Italian!
One of my favorites is the mint with chips. It gives a good cap to your sumptuous, oily Italian meal. It also serves the purpose of masking the inevitable garlic breath from all that seasoning. And when you get home, you save on water since you no longer have to brush your teeth!
If you're feeling a bit lavish with your dessert you should get a double scoop combination of mint and chocolate. Their chocolate is so rich. Lasa talagang tsokolate! And the hint of mint adds a twist or mellows the richness!
Ang sarap sobra!
What I wouldn't recommend are the
fiordillate
and vanilla flavors. They're not bad; they're just no Haagen Dazs. I love vanilla when it's creamy, creamy, creamy. (Sorry for the limited vocabulary, but how do you
really
describe vanilla?!) So I was terribly disappointed that Don Bosco's vanilla-based gelato tasted more like it was produced from powdered Birch Tree (it's everybody's milk). But hey, for 35 bucks, who's complaining? A possible justification for this glitch is that Don Bosco is attempting to cater more to the Pinoy palate than the French's in terms of vanilla flavor.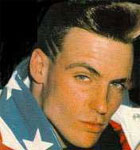 Finally, you can take home these decadent pleasures (around 240 bucks a gallon) and gorge yourself with ice cream while lazing on the sofa on a hot summer day and aptly grooving to
Ice, Ice, Baby
.