Well actually, it's at the corner of Kamagong St. & Sampaloc st. But yes, it IS cheap and tasty, and quite filling too. So after a sulit saturday, hungry and beat, I declared I wanted cheap japanese. Noone else had an opinion, so we piled into the car and headed for San Antonio village.
As we were all too tired to read the menu off the walls, we settled for the laziest choice and also the most sulit item - the set meal. For php123, you get 2 ebi tempura pieces, tuna steak, chicken furai, tai kimiyaki (fish fillet), squid balls, pork kushiyaki, rice and miso soup. Yes, aaalll of that for 123pesos. On a little steel serving platter.
It's almost like a menu sampler. And as you can glean from this selection, you shouldn't expect anything sophisticated in Suzu Kin. Their cook's imagination stops at frying. But he does it well, haha! And it lets them deliver big on taste and value despite the small price.
Take the free miso soup, I find it tastier and more savory than a lot of the miso soups I have to pay for in other, higher-end japanese restaurants. They put little bits of fried batter to add to the tastiness. And the broth is opaque from all the miso, tofu and veggies.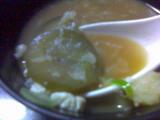 Everything on the set is yummy, each in its simple, fried way. I like too the uniqueness of going through little bite size meats prepared in different ways. It's a mini buffet! For me though, the tuna steak is a stand-out. (A lighter, tuna version of bistek. Garlicky and dark with toyo, but still retaining the taste of tuna.) I just keep forgetting to order it on its own, instead of succumbing to viand polygamy. You can get tuna steak a la carte at php120. Mmm-mmm. The chicken furai is great too, juicy and memorable thanks to its dark but tangy sauce. The tai kimiyaki is tender and packed with taste.
Their menu has all the japanese fastfood basics: donburi from php109 (Oyakodon) to php129 (Gyudon), teppanyaki from php157 (squid,chicken) to php202 (shrimp), tempura (6-8 little pieces of shrimp for php155), sobas, udons, sashimis and makis. If you're a raw fish connoiseur though, I wouldn't reccomend ordering here as these really aren't their specialty.
What I appreciate most about Suzukin is that they know their target market. The average salaryman who just wants a good, no frills, inexpensive meal at the end of a tiring day. I want to commend them for turning out solid, filling meals at low prices, WITHOUT scrimping on their ingredients.
Plus, i mean, they're basically a carinderia. They serve their water in thick glasses and their food in steel plates. The staff hardly smile. They have no ambience at all. But I think they get by on inadvertent charm. Their menu's hand-pentel penned on cartolina. There are japanese-y curtains above the doorway. And they all scream "arrashaimase" when you go through the door. These make me fond of Suzu Kin - the little japanese carinderia that tries.
Going down Metropolitan ave. towards Quirino ave., turn left at Caltex. It's right on the corner - facing the dress shop and lying tangent to Metrobank. You can park along Sampaloc st., right by SuzuKin itself. At lunch, there's an old man who watches your car while you eat fried meats.